Admirals Inn and White Rose Inn
87-95 Main Street, Ogunquit, ME 03907
The Admirals Inn and adjoining White Rose Inn located in Ogunquit, ME make a wonderful offering as one of the most sought after resorts in New England. These properties are available to purchase together with a total of 72 rooms, or as individual sales. The two properties are in superb condition and located in an area with strong cash flow and "barriers to entry" that make this one of the best hotel offerings we have seen in a long time.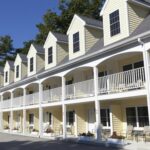 Login to Request Financial Information
Register today for up-to-date market information and to request financials.