Chockset Inn
59 Laurelwood Road, Sterling, MA 01564
The Chockset Inn located in Sterling, MA is nestled in the scenic countryside and conveniently located between two major metropolitan areas. The property includes 25+ rooms all with a living room and full kitchen. The Chockset Inn is well-known for its established wedding and banquet business.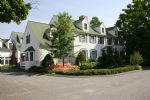 Login to Request Financial Information
Register today for up-to-date market information and to request financials.