Comfort Inn – Brattleboro, VT
The recently built hotel offers 56 well-appointed rooms and suites and is located just off Interstate 91. We are pleased to announce the sale of the Comfort Inn and Suites and the 99 Restaurant located in Brattleboro, Vermont.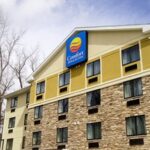 Login to Request Financial Information
Register today for up-to-date market information and to request financials.