Comfort Inn, South Portland, ME
We are pleased to announce the sale of the Comfort Inn located in South Portland, ME. This 127 room property was purchased by New Gen Hotels Group, LLC and sold by the Witham Family Limited Partnership. Offering 127 rooms the Comfort Inn is located just off I-95, steps from the Maine Mall and 1 mile from the airport as this property benefits from a superior location.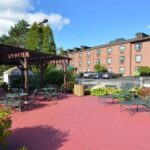 Login to Request Financial Information
Register today for up-to-date market information and to request financials.