The former White Lake Inn on Route 16 in Tamworth NH is soon to reopen as a new 40 room Days Inn. The property purchased by Mike Patel and his wife Bhumi has undergone a complete renovation including a new comfortable and welcoming lobby with fireplace and new well designed and attractive breakfast area. The property abuts White Lake State Park and one of the largest Snowmobile trail systems in New Hampshire and is close proximity to Ossipee Lake, the Indian Mound Golf Club, the new Auto Sports facility and is only a half hour from North Conway and the White Mountains. Congratulations to Mike and Bhumi, we wish you much success.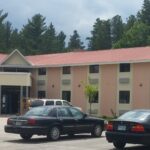 Login to Request Financial Information
Register today for up-to-date market information and to request financials.