Highlander Inn & Conference Center
2 Highland Way, Manchester, NH 03103
The Highlander Inn & Conference Center located in Manchester, NH resides in close proximity to one of New England's largest airports and is in one of the nation's best college cities. The property features a mix of guest rooms, a high-end conference center, and on-site dining facilities. Additionally, the property has convenient access to downtown shops and restaurants, as well as nightlife activities and sporting events. The Highlander Inn & Conference Center offers a wealth of potential to just the right buyer.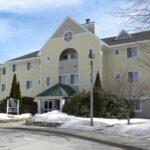 Login to Request Financial Information
Register today for up-to-date market information and to request financials.