Holiday Inn Express
175 Key Road, Keene, NH 03431
The Holiday Inn Express located in Keene, NH includes 80 impeccably maintained guest rooms that just underwent a $1,000,000 remodeling program. The property is located just a few short blocks from downtown Keene and Keene State College and benefits from the many other business, corporate, and leisure activities. This opportunity offers one of southwestern New Hampshire's best hotels at a reasonable price that is well under the replacement cost for such a highly sought-after franchise.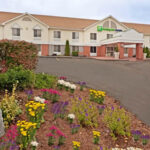 Login to Request Financial Information
Register today for up-to-date market information and to request financials.