Red Carpet Inn
380 Bayonet Street, New London, CT 06320
The Red Carpet Inn & Suites located in New London, CT is conveniently located near the Mohegan Sun Casino, New London Mall, Ocean Beach, Foxwood Casino, and many mystic attractions. The rooms at this property feature a kitchenette, free Wi-Fi access, 25" TV with remote, HBO, ESPN, SNN, free continental breakfast, free local calls, refrigerator, microwave, and the interior corridor rooms include electronic key cards. This property is offered for sale in cooperation with RE/MAX Right Choice Commercial and Investment of Trumbull Connecticut.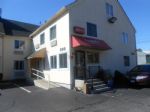 Login to Request Financial Information
Register today for up-to-date market information and to request financials.