Sandy Bay Motor Inn
183 Main Street, Rockport, MA 01966
The Sandy Bay Motor Inn located in Rockport, MA has been well-known since it first opened in 1975. The property is a short drive from Boston and offers visitors the charm of a quaint Cape Ann town. The Sandy Bay Motor Inn sits on nearly three acres of land and includes 79 rooms and suites, as well as an attractive dining room. This attractive property will require some upgrades and has a number of repositioning opportunities.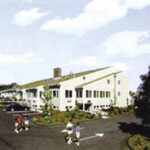 Login to Request Financial Information
Register today for up-to-date market information and to request financials.