The 1896 House Country Motels
910 Cold Spring Road, Route 7, Williamstown, MA 01267
The 1896 House Country Motels located in Williamstown, MA is one of the best owner/operator properties we have seen in a long time. This property provides 30 beautifully designed and immaculately maintained guest rooms, a large owners home, and outdoor pool all located along the Hemlock Brook and a serene duck pond. The 1896 House Country Motels is located in the beautiful Berkshires of northwestern Massachusetts and in the quaint college town of Williamstown which provides this property with the benefits of a variety of four season activities and attractions. Additionally, The 1896 House Country Motels includes Brookside Motel and Pondside Motel properties, and is adjoining to the '6 House Pub & Inn and Barnside Luxury Suites. The successful restaurant offers a pub with seating for 200 indoors and 45 outdoors on the terrace, all in an attractive early American décor. The Barnside Luxury Suites offer six large and beautifully decorated living and sleeping areas with plenty of room for relaxation. The '6 House Pub & Inn is priced separately.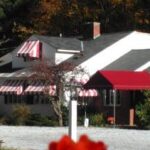 Login to Request Financial Information
Register today for up-to-date market information and to request financials.