Wind Song Motor Inn
2365 White Mountain Highway, West Ossipee, NH 03890
Wind Song Motor Inn located in West Ossipee, NH is on the corner of Route 16 and Route 25 and at the gateway to Mt. Washington Valley and the White Mountains. The property sits on eight acres of land and includes 33 rooms, and need some improvement to the condition and management. There are many redevelopment possibilities with this property.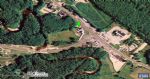 Login to Request Financial Information
Register today for up-to-date market information and to request financials.